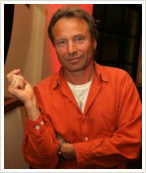 About Sandhi Spiers
Described as an inspiring and visionary social entrepreneur Sandhi is known to be able to inspire others to do things they didn't think were possible...by modelling for them and setting a personal example. He is the founding director of the Wholistic Business Network with 25 years experience in personal & professional development, coaching, counselling and group facilitation.
Sandhi is a dynamic counsellor, speaker & facilitator who has captivated audiences internationally. His personal clients include celebrities and hundreds of individuals from all walks of life who are dedicated to reaching their fullest potential. He has developed profound and effective ways of working with people in mind, body and spirit.
His background includes training in business, social education, drama action, emotional expression & release, yoga, meditation, inner child work and psychology. Being a certified master NLP practitioner Sandhi has led, managed and launched numerous businesses and events with tailor made solutions.
At the heart of his work is his capacity and ability to instantly see the real issues to bring forth awareness of individual and collective patterns, paradigms and frameworks that need to change before more desirable outcomes can be created. His programs and teachings facilitate new ways of thinking, seeing, listening & communicating. His style is humorous and subtle yet creating powerful changes in perceptions, paradigm shifts and behaviours.
As producer of Club De La Mar Sandhi has managed a multitude of events, featuring some of the finest social highlights in Sydney, bringing together the performing & healing arts to create truly memorable celebrations for Mind , Body & Spirit.
Today he is the managing director of the WBN, masterminding & networking with many thought leaders, serving and inspiring others, creating a world to which people want to belong. Sandhi is based in Sydney where he works with a wide variety of individuals and groups in the area of personal and professional development.
To learn more about the results produced
click here
for
case studies.